Oh my goodness!! Did you see the fantastical Deputy Dog badge
Richie
and
Ronnii
made for me???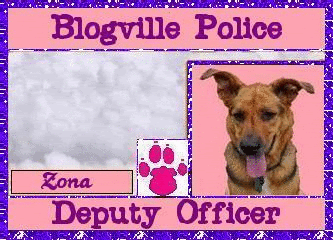 In other news... I predict tomorrow is going to be F U N! Check out what's happening NOW!
Phoenix and I did our best to eat as much snow as we could so mom didn't have to shovel! She only did little bits at a time.. don't worry!
Papa had to go to work, of course, but should be home by midnight. Paws crossed that he has a safe drive home. We already have 4" and the roads are a mess. The word is the snow is coming down at about 2" an hour. As soon as papa is home, I will be SO excited to play in it tomorrow. But for now we're hoping it slows down so he gets home without trouble.